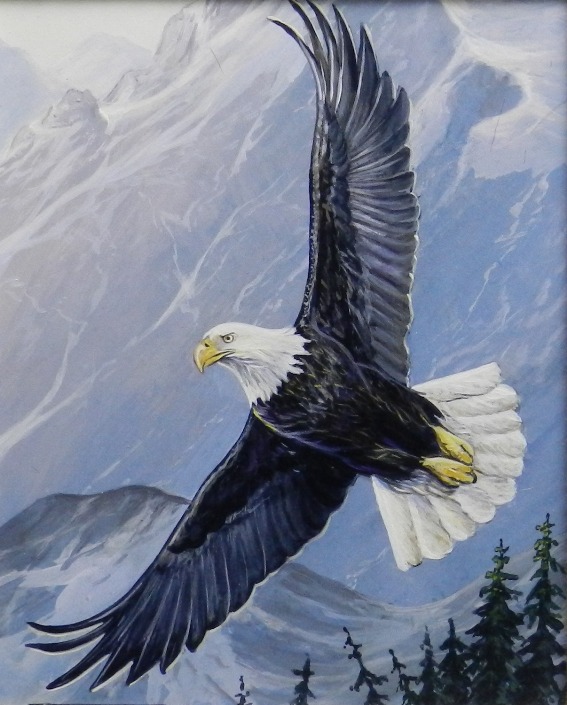 "Monarch of the Sky" is a beautiful composition of a majestic Bald Eagle soaring before the Rockies. We acquired this painting from the original owner who purchased this in the late 80's from Fox Hollow Studio in Bartlesville, OK.

Jan Martin McGuire is a highly accomplished and listed contemporary wildlife artist known for her incredible realism and eloquent portraits of wildlife creatures.

CAREER HIGHLIGHTS:

Exhibited at:

Smithsonian Museum, Washington, DC
National Geographic Society Corporate Gallery
Forbes Corporate Gallery, New York, New York
Dallas Museum of Natural History, Dallas, TX (solo exhibit)
Natural History Museum of London, London, England
Forbes Galleries, 5th Ave, New York, New York
Solo Show Painting Safari: Jan Martin McGuire's
Scenes from the African Wild
Forbes Magazine One Man Show
Leigh Yawkey Woodson Museum, Wausau, WI
Gilcrease Museum, Tulsa, OK
Wild in de Natuur, Netherlands

Collections:

Forbes Magazine, New York, New York
Raymond James Financial, St Petersburg, FL
Malilangwe Conservation Trust, Zimbabwe, Africa
Bell Museum, Minneapolis, MN
Peregrine Fund/World Center Birds of Prey, Boise, ID

Jan artwork has been featured in numerous magazines and books. Her artwork has been sold at prestigious auction houses such as Christie's and Bonham's. She is a Signature Member for both Society of Animal Artist's and Artist's for Conservation.