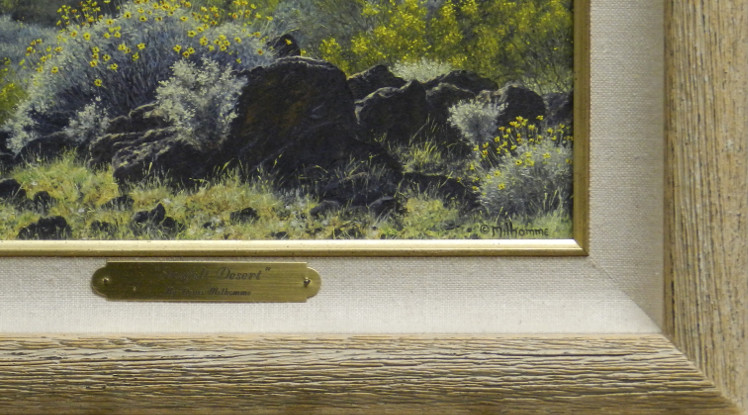 Sunfelt Desert

is a beautiful painting that showcases the incredible talents this artist possesses in conveying detail, light, and depth. Milhomme's use of light and deminishing details produce a desert scene full of color and depth - majestic saguaro cacti and flowering desert fauna. Of course, this painting also displays the masterful detail that this artist is best known for in his compositions.
Denis Milhomme is a highly accomplished and award winning listed contemporary artist known for his realistic landscapes and wildlife art. His love of nature is reflected in each fine brushstroke. Most recently, he was a participant in the country's most important Western Art Show, the

Master's of the American West Fine Art Exhibition and Sale

located at The Autry National Center. Additionally,

Art of the West, Artist, Southwest Art, and Wildlife Art

magazines have all published articles about his work.
The painting is housed in a 2 1/4" wide desert wood frame(includes canvas liner and gold fillet) which highly compliments the piece. A brass engraved plate lists the artist and title of the work. It is signed, bottom right.
We offer free shipping within the continental United States. All other interested buyers please contact us for shipping cost.